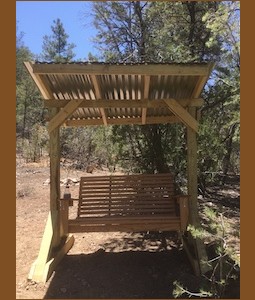 "Swing by the River" Red Oak
When we first bought our cabin, we fell in love with a location that overlooked the river below. I knew then six years ago that I wanted to put a swing in that spot. It took me six years almost exactly to get it done but we finally have a swing by the river.
I built it using red oak and put on a thick coat of Spar varnish, something I expect to have to do annually because of the damage caused by the UV from the harsh New Mexico sun, but it looks and feels amazing. I used a pattern copied from April Wilkerson. https://www.youtube.com/watch?v=ZaMWwxuPWZE&t=1s She also has a pattern for the frame. I used her frame for inspiration.
It is a great project! I had fun building it and I hope to enjoy the relaxing location for many years to come.