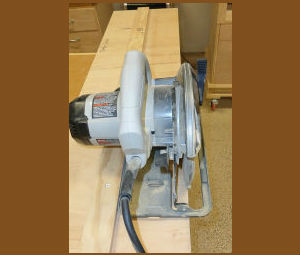 "Breaking Down a Full Sheet of Plywood" Use an inexpensive homemade jig.
It might seem like something that shouldn't be that hard, but manipulating the large panel that can weigh over sixty pounds provides some interesting challenges. Most of us work in our shops alone, so just moving it around can be difficult. I know some woodworkers who take the whole sheet to the table saw, but I don't feel comfortable doing that, nor would I recommend it. First, it's dangerous to try to manipulate a sheet of plywood through the table saw even with help, but also it's difficult to keep such a large piece lined up and straight.
In a perfect world where money is not an issue, I would recommend everyone pick up a high-end track saw. But so rarely do we live in that world; even the least expensive track saw costs in excess of $200. If you are interested in a track saw in that price range, The Wood Whisperer does an excellent review of the Grizzly Track Saw.