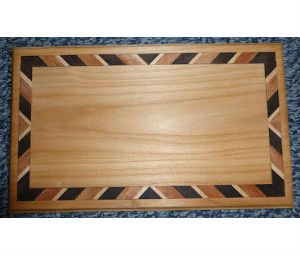 "An Inlay for the Top" Creating an Inlay with Exotic Wood Pieces.
I recently took some time off to learn some new techniques. I discovered I really enjoy doing marquetry. I prefer to call it inlay, since at this point, I'm just creating simple straight patterns. This picture shows an example of one of the box lids I created. It's actually pretty easy, but it does require some small cuts on the table saw and bandsaw, so use push sticks and extra caution.
Step one, go through your scrap pile for some interesting exotic and/or contrasting woods. I didn't really have much in the way of exotic woods except some wenge and mahogany from customer projects. I decided to throw in a maple strip as well. And I always have some alder around. I use it quite a lot for projects when customers want something stained, so I decided to use it to build the box; turns out it complimented the inlay strip nicely.