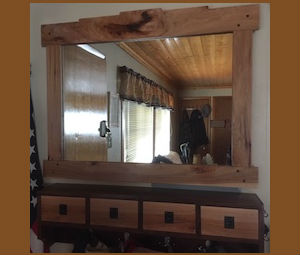 "Greene & Greene Style Hickory Mirror" with Walnut Plugs
I've always loved Greene and Greene style furniture, but it hasn't fit in the decor of the cabin too well. I finally found a way to make it work with this mirror in our front room. It is a small space so this large mirror over the hickory and walnut coat rack works perfectly in the space.
I deviated from the normal G&G style by using hickory to match the other cabin furniture instead of oak. And I used walnut for the plugs instead of ebony. It was a fun build.