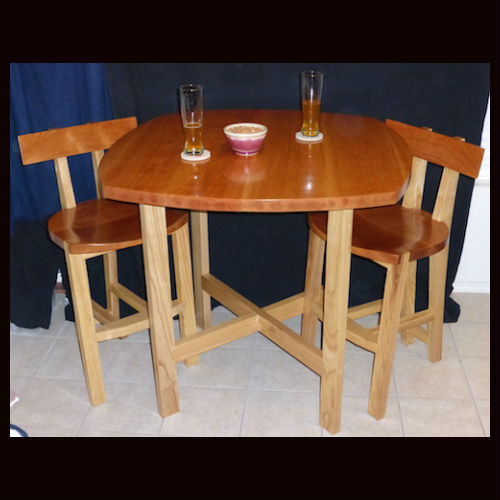 "My Favorite Wood" Cherry Over Time.
For the last couple of years, I've worked primarily with hickory and walnut because those are the woods I've chosen for furnishing my cabin, but I truly love cherry. About four years ago I built a pub-style table and chairs. After just a few years it has turned a beautiful deep red color, and it gets prettier every day.
The cherry trees used to build furniture are actually black cherry trees (Prunus serotine). They produce fruit, but it's pretty bitter. They grow pretty tall (70 feet) compared to the flowering cherry trees that only grow to about 35 feet. The black cherry tree has fine grain with closed pores making it easy to work with (Woodsmith 8). For a hardwood, it is actually pretty soft—it cuts easily. It is second only to oak as the most popular wood furniture manufacturing in the U.S. (Arno "Cherry" 64). It is much easier to work with than oak.