23 December 2016 Hits: 7981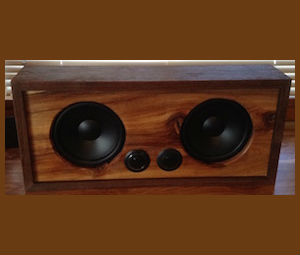 "Rechargeable Bluetooth Speaker"Hickory & Walunt Stereo Speaker.

Over my Christmas break I built this 18x8x6" stereo speaker from Hickory & Walnut. I built it with hickory to match the other furniture in the cabin. I used mittered corners in the walnut with 3/16" hickory splines for strength and appearance. I screwed on a piece of clear plexiglass for the back so I could see the components and easily get to them if a repair was required. I used a lot of hot glue and epoxy to secure the parts inside.
After watcing dozens of Youtube video, I figured out exactly what I needed to buy to put together a bluetooth capable speaker with a rechargable battery. I did a test and it all worked out perfectly. It sounds great in the cabin and it will be perfect for listening to tunes both inside and outside.